العربية Deutsch English فارسی русский
CAYA: Come as you are – psychosocial support for queer refugees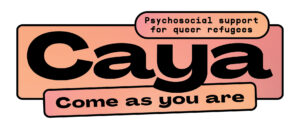 CAYA – "Come as you are – psychosocial support for queer refugees" is a collaboration project between rubicon, the Cologne LGBTIQ counselling center and the Caritas Therapy Center in Cologne.
The CAYA project is the right place for you if
you had to flee from your home country
you are now figuring out things about your sexual orientation and/or gender identity
you are not feeling well because of the things you have experienced
You just want to talk to someone
Our counseling is free, anonymous and confidential. Together we will think about how we can support you. If necessary, language and cultural mediators can join our meetings. The counseling can also be by phone or video-based.
As part of the CAYA project we offer
Psychosocial counseling:
Stress, loneliness and feelings like anger, fear, anxiety and sadness are normal. Together we can find a way to deal with those. You are looking for someone to talk to openly about your problems, experiences and questions regarding life in Germany, sexuality, gender diversity, relationships, friendships, family, community and LGBT*I*Q life? Together we will look for answers and solutions.
Trauma Counseling:
You've experienced bad things, you are not be able to sleep well or have nightmares. Your memories weigh you down – but you don't want to bother anyone with your problems. This counseling is about understanding what is going on with you. Together we will see what can help you to feel better again, to sleep better or to let your thoughts bother you less. Counseling is not therapy. But it can relieve you.
You can also learn more about our new activities in this project, e.g.
Coming-Out Group: In this group we will talk about coming-out and try to answer the questions: Who am I? How would I like to be? What do I wish for? What words can describe what I feel? How do I find love? How can I live out my sexuality and identity in Germany? From June 2022, every first Thursday of the month from 7-9 pm. If you're interested, please contact Idàn at idan.sagiv.richter@rubicon-koeln.de
Trauma stabilization group: The group is about understanding why I don't feel well after traumatic experiences, what happens in my body, why don't I sleep well, am restless, have anxiety or nightmares? Here you will learn exercises that can help you with this. This group starts in June 2022 If you're interested, please contact Antonina at Antonina.Reiners@caritas-koeln.de
Empowerment workshops on different topics, such as: LGBT*I*Q life and community in Cologne, online dating, safer sex and queer health, masculinity* and femininity*, self-care and more.
We are looking forward to meeting you!
Best regards,
Your CAYA contact persons
Idàn Sagiv Richter (rubicon) and Antonina Reiners (Caritas Therapy Center in Cologne)
Contacts:
Idàn Sagiv Richter (he/him)
idan.sagiv.richter@rubicon-koeln.de
0221 – 27 66 999 – 38
Antonina Reiners (she/her)
Antonina.Reiners@caritas-koeln.de
0221 – 16074 – 22